Monday, December 30th, 2013 Provo, UT

Greetings, Dear folks out there in the great beyond.

(Please note: I'm not yet dead but rehearsals are going splendidly, though for me, they are a dreadful nuisance so I glare and grumble).

There have been rumblings for quite a while and now it has happened. We have now returned to Zion and I can feel the wings sprouting. I do love this State, of course late summer/early autumn and spring are often the most glorious. The rest of the time I grit my teeth and try to be very, very brave, although the snow is beautiful.

This is just a quick note to catch up a little.

The address here is 241 East 4700 North, Provo, Utah, 8460. Email remains the same as does the cell phone 510 205 7754.

Marianna Southey is now handling studio business from her new location at 1020 East 300 South Salt Lake City, Utah phone: 415-407-8607.

I think I might have mentioned that the wretched Parkinson's has shot down my already less than brilliant typing. But I love being in touch, so a bit of catch up for some pretty big changes. Poor health for both my daughter and myself, plus other pressures, have compelled us to scoop up her two boys and decades of accumulated life to move back to Zion (Utah). We love the state a lot. It is our home state really, since Elaine, my former wife and I met and married here, and all of our children were born here. So we love it a lot, if for nothing else its stunning beauty. So, when Elaine, in her extraordinary way, generously offered to buy a condominium for Sarah in the same complex as hers, the deal was set. I have joined Sarah and the boys to continue my role as extra parent and doting grandfather. Susannah, whose husband Tyler is working on a MBA at BYU, and their four little girls will be here for at least another year. This is a great opportunity to enrich my relationship with them all.

The house in California recently sold. I miss my good neighbors and apologize to them for the mess in the driveway during the move. And then there are the fine and kind members of the Mormon church in the area. Their remarkable deep and sensitive support for Sarah and myself, has made an indelible mark in my heart and soul.

Through all of that and to the chagrin of my healthy children, I have been working on a life size sculpture of one of my favorite concepts, Brother's Keeper.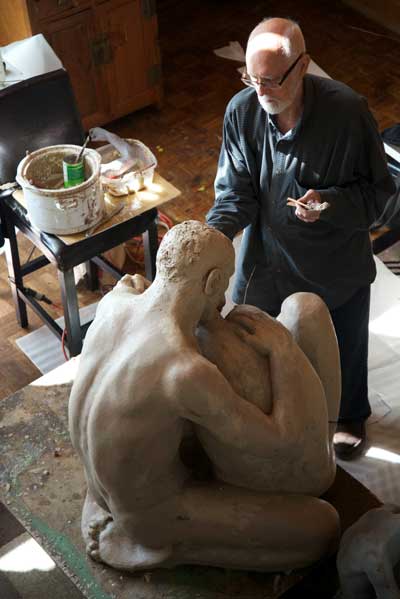 The project is the brainchild of my dear foundry owners, Rose and Piero. It is a marvelous opportunity to express my feelings about compassion and mutual responsibility for each other. Anyone want a copy?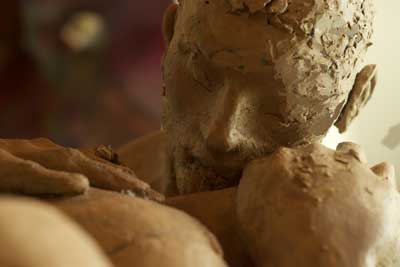 BIG things last September, when we gathered back in California for Marianna to wed her Todd Grady. He is a highly successful trumpet player performing in bands as varied as the Lincoln Center, New York, and the fine old Queen Mary docked in Long Beach close to Los Angeles. They bought a house from Kevin in Salt Lake City and are enthusiastically preparing it as their home.

And as if that is not enough, Kevin and his lovely girlfriend Kirsten journeyed off to South East Asia this past March. He took along a little something and ended up kneeling near a river in Hoi An, Vietnam and proposing to her. They will wed some time next year. Kirsten is a highly respected member of the team working with the mayor of San Francisco and more importantly beloved in our family.

I look forward to continued fun and games and wish the best to one and all.

Cheers,

Trevor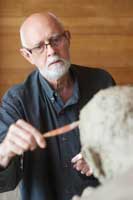 Represented by Dabakis-Justesen Fine Art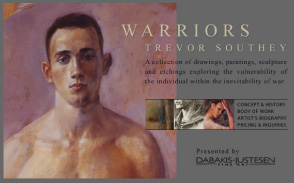 "A collection of Trevor Southey's art would be lyrical and compelling in the absence of commentary or written authorial musings. Interleaf the artist's own inward reflections..." - Robert Flynn Johnson

Buy the book


We'd love to hear from you should you have any questions or comments. For pricing on Printmaking and Sculpture download our price list. For pricing on Unique Works and Commissions please contact the studio.

Email: southeyart@trevorsouthey.com
Address: 1020 East, 300 South, Salt Lake City, UT, 84102
Phone: 415.407.8607

More information about commissioning art.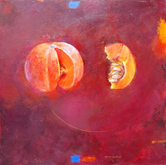 Pumpkin
oil on canvas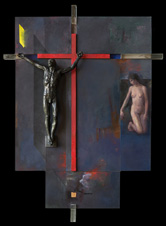 Dark Light
oil on canvas, bronze, cast resin

read some of Trevor's thoughts behind the creation of Dark Light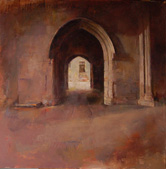 Abbey
oil on canvas (Sold)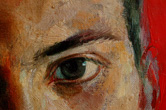 View the slideshow of the Warriors collection.



"I have just visited your web-page - yes! really! - And am struck dumb by your "Warriors" - even as displayed on a miserable little screen – the life-size real thing must be very powerful..."

"Prodigal Son," .... Readers' reactions caught editors Martha Bradley and Allen Roberts off guard..."

"I am continuously moved by your artwork on a level that I can not even comprehend. It is intoxicating..."

"I just wanted to tell you that I watched the short film of your clay rendering of St. Francis of Assisi. All I can say is Oh My God! It's one of the most beautiful things that I have ever seen. It is just going to be overwhelming when cast in bronze. Take care and be well."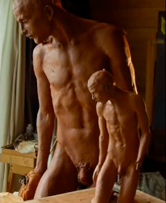 Assisi, view a slide show of clay production of the sculpture for the Cathedral of Hope, Dallas and video of production and dedication. Video courtesy of Cathedral and Shawn Northcutt, ICY Productions.

Click Here For Assisi Page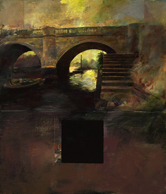 ... and the river god flew
oil on canvas


See Trevor on the FRONTLINE Special "the Mormons"

visit PBS's website and watch the show (chapter 22)

Related Work: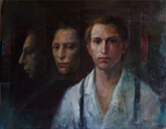 Joseph Smith- Three Views
oil on canvas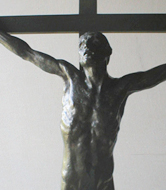 Crucified
bronze and steel

"New Bloom" on display at the Springville Museum of Art
15 Bytes article, "Eyes on Trevor Southey"
by Shawn Dallas Stradley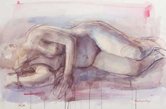 Drawing the Human Figure" This video features Trevor Southey working at his craft while discussing specific art techniques.